The term "endurance racing" conjures visions of man and machine competing over 24 hours, covering vast distances fighting the elements, other cars, reliability and the time itself. Examples of this are the 24 Hours of Le Mans and the 24 Hours of Daytona, which are both classic races amongst many others.
But, can you take that essence and convert it into a bite-sized, virtual form? With the official iRacing IMSA SportsCar Series, you can get the delights of modern-day endurance racing condensed into a much shorter but just as exciting format. Let's learn more about the series.
The Cars
Just like in the real-world IMSA WeatherTech SportsCar Championship, three classes of cars compete in the iRacing IMSA SportsCar Series, comprising two prototype categories and one for GT cars.
Despite there being multiple categories of classes within each race, you need to remember that you're only competing against drivers in your own category and manage slower traffic.
GTP
Grand Touring Prototype (GTP) is the premier class in IMSA, featuring cars that represent the pinnacle of prototype technology with performance to match. iRacing currently has two cars in this category that feature hybrid technology and huge amounts of downforce, fast cornering and very high top speeds.
BMW M Hybrid V8: The car is based on a Dallara-built chassis featuring a BMW twin-turbo V8 engine and a 50kW electric motor. The car currently competes in the IMSA SportsCar Championship and has already won one race. It will be entering the FIA World Endurance Championship next year.
Cadillac V-Series.R: Based on the same Dallara chassis as the BMW, the V-Series R uses a normally aspirated V8 engine combined with a 50kW electric motor. The V-Series.R has already won two races in the IMSA SportsCar championship and finished third and fourth in the 24 Hours of Le Mans.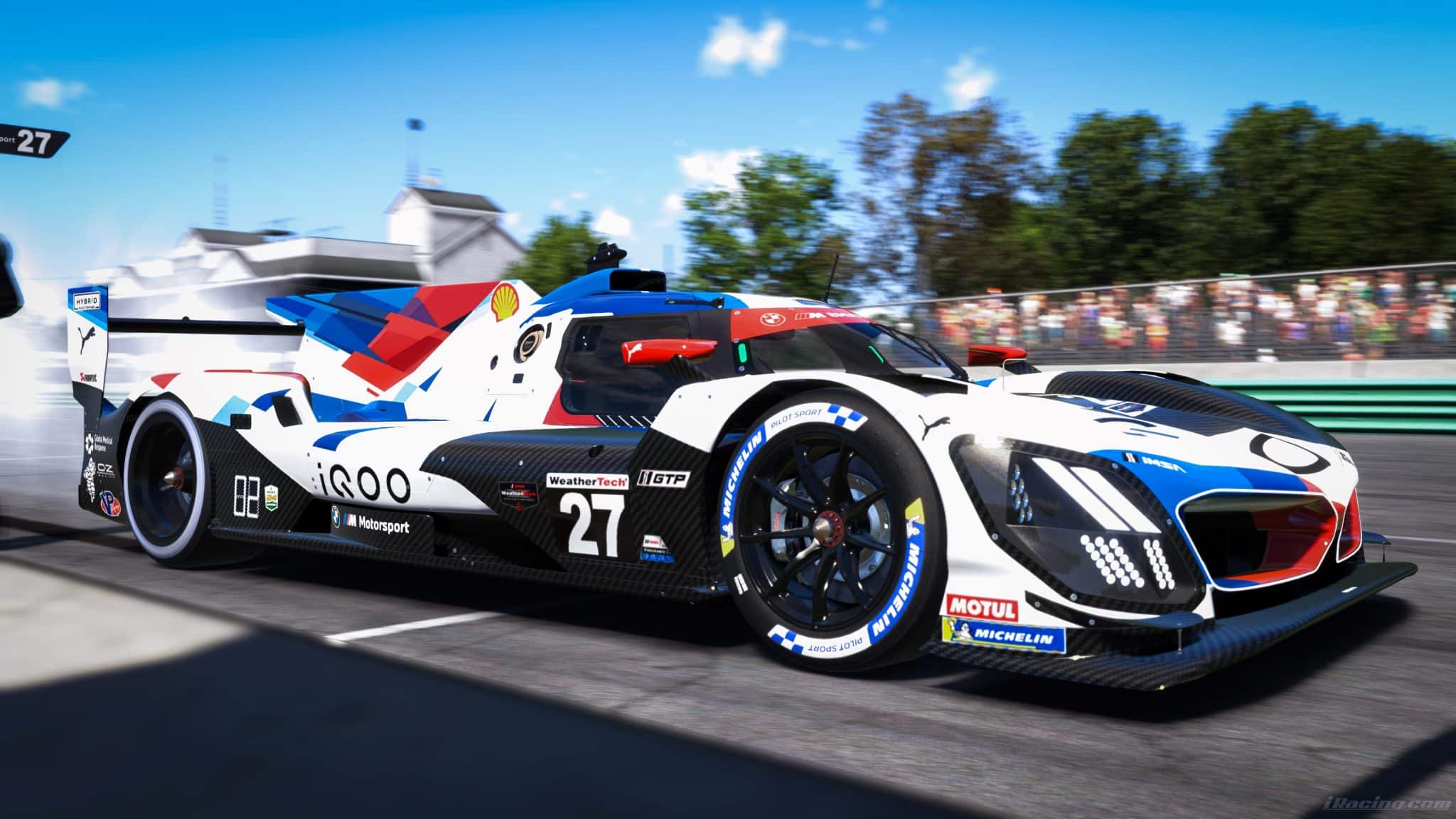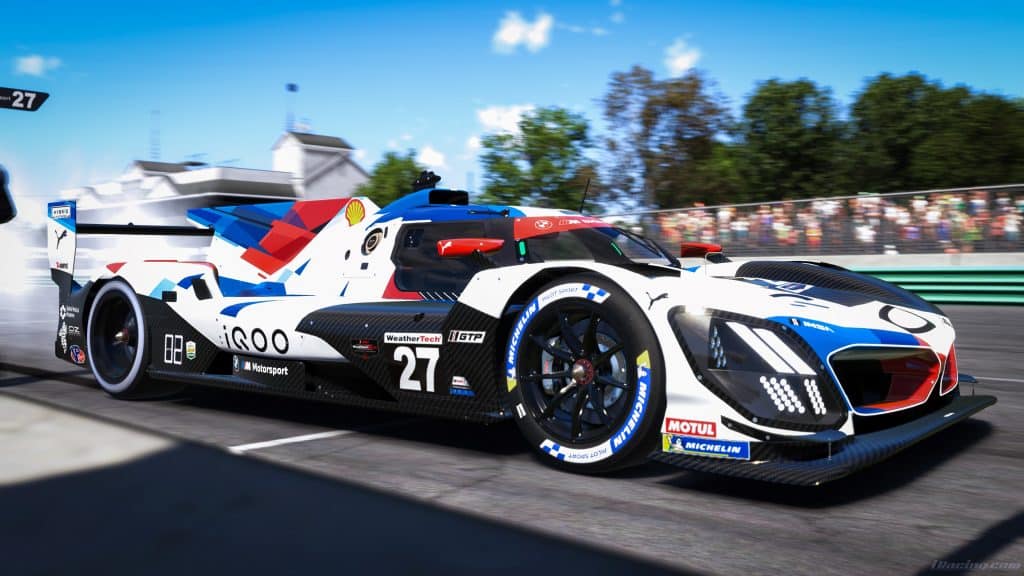 LMP2
Le Mans Prototype 2 (LMP2) is one step down from the GTP class, but some may argue that it's maybe one step up in terms of driveability and enjoyment. The class only features one model, and that's the Dallara P217 – a prototype that runs on a chassis similar to the two GTP cars but does not have any hybrid technology.
It's not too far off the pace of the GTP field but does not have any complicated ERS modes to worry about during the race. It's lighter than its GTP counterparts too, which aids low-speed manoeuvrability, but in parallel, it also boasts less downforce.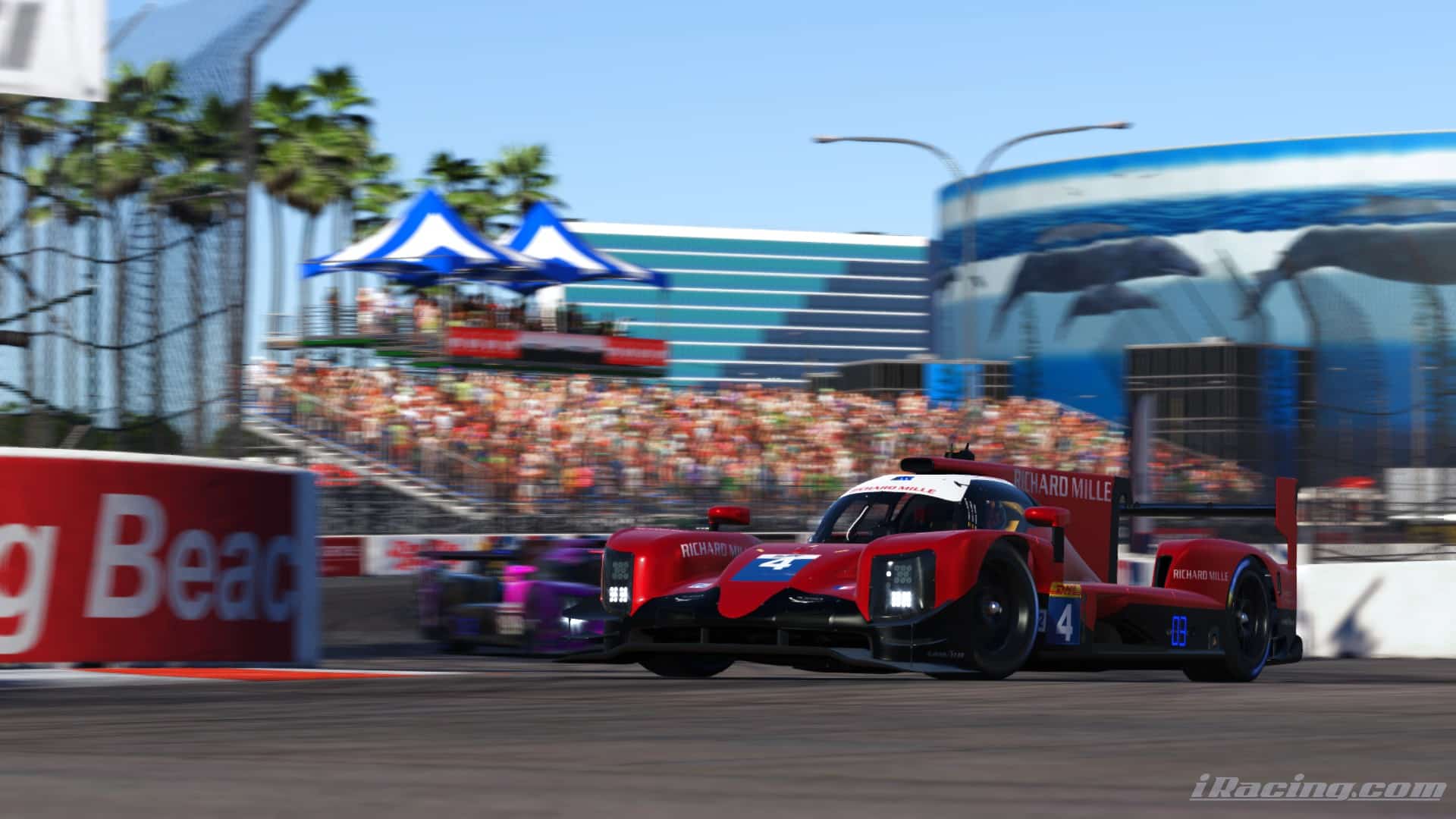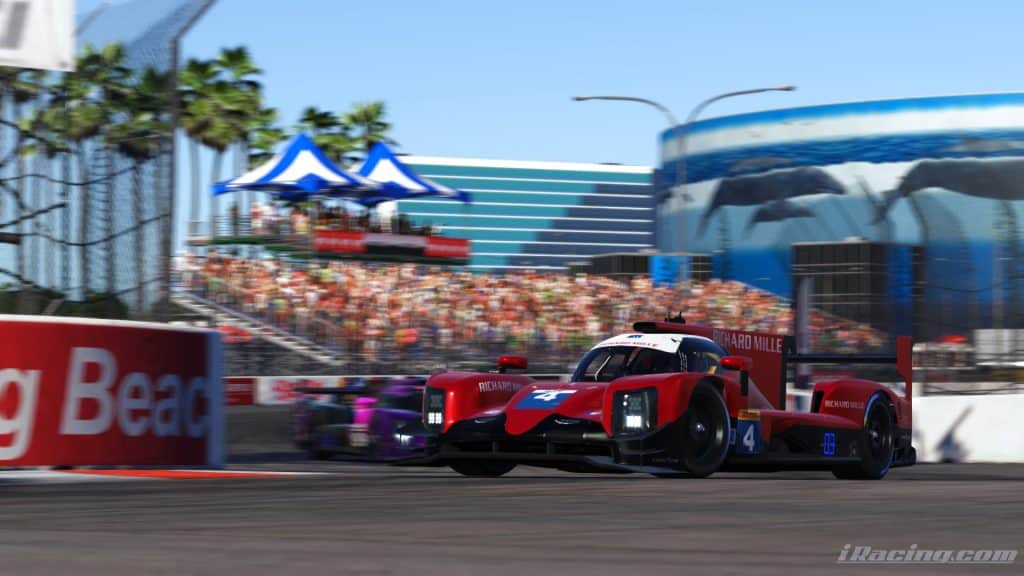 GT3
The GT3 (known as GTD in IMSA competition) class comprises six cars representing six different manufacturers, all complying with the FIA-specified GT3 regulations. The cars have relatively high downforce, ABS and traction control, with performance being equalised by iRacing's Balance of Performance (BOP) system.
Audi R8 LMS GT3
BMW M4 GT3
Lamborghini Huracán GT3
Porsche 911 GT3 R
Ferrari 488 GT3 EVO 2020
Mercedes-AMG GT3 2020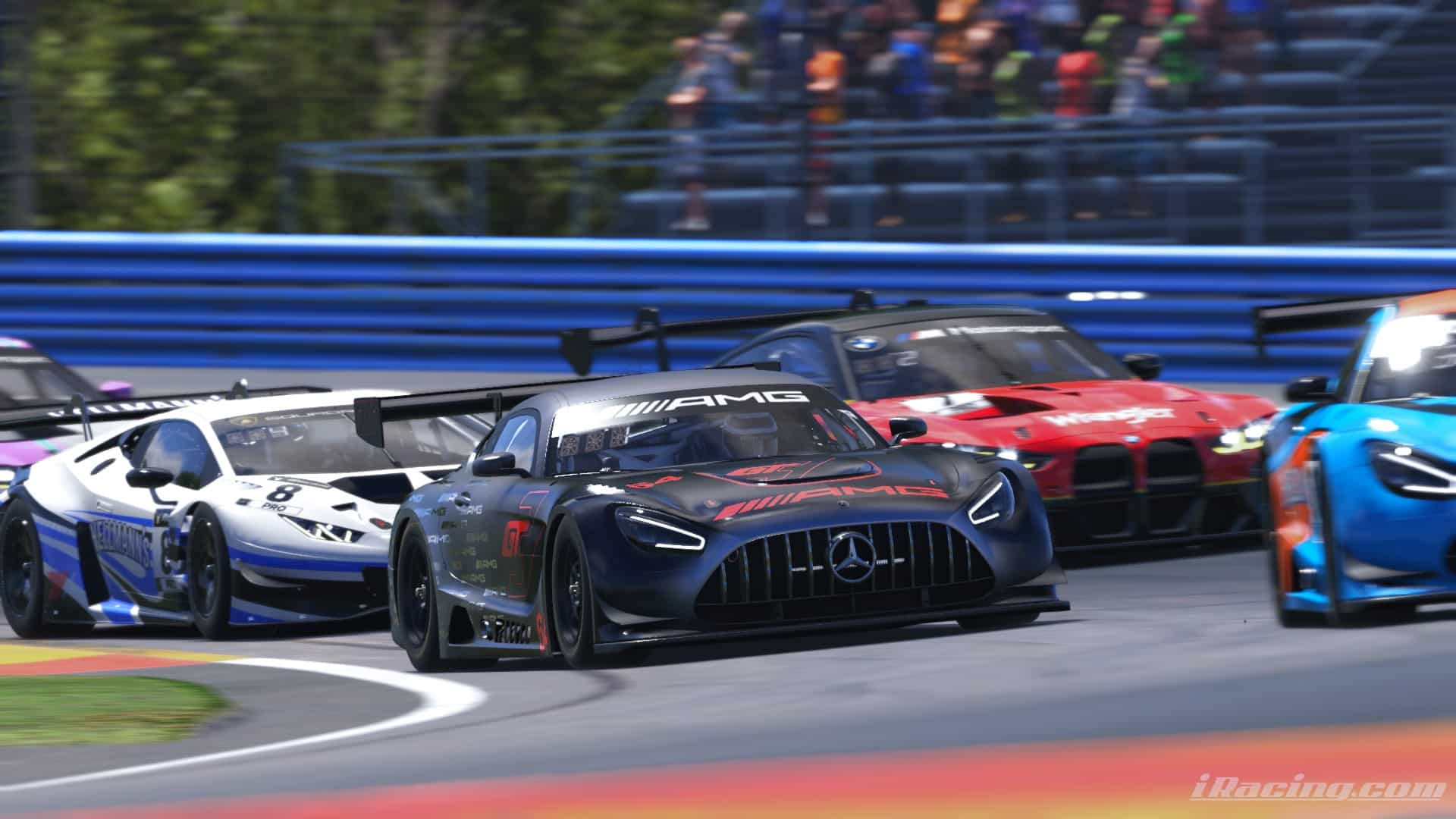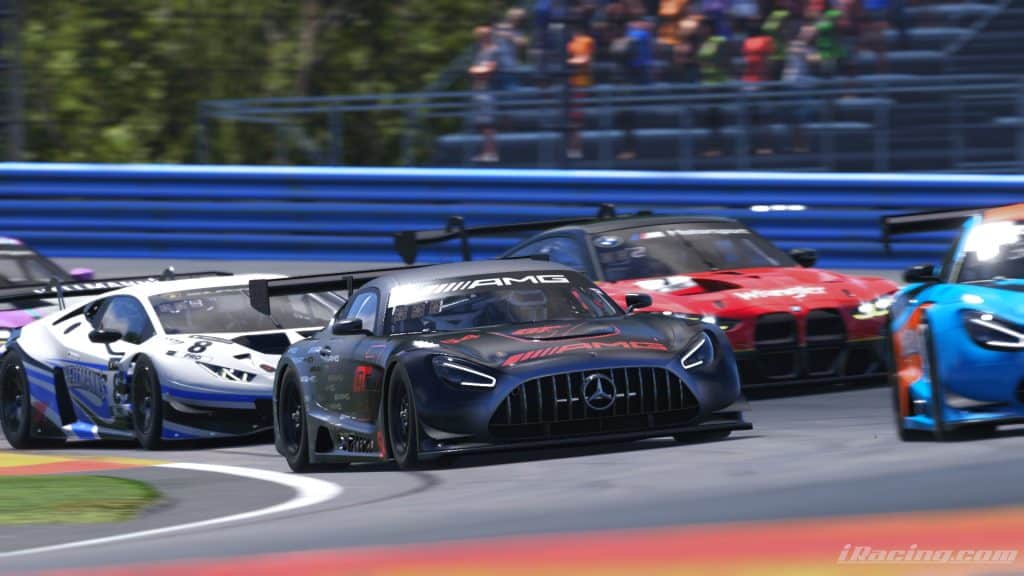 Race Format and Strategy
Races are 45 minutes long, with one compulsory pit stop in the IMSA iRacing Series. The race begins from a rolling start with a clear separation between each class of car.
At all tracks, you can run a full tank of fuel at the start (which will be smaller than what you'll find in series such as the European Sprint Series due to IMSA's BoP), which should see you get far past the 50% race distance mark, but you will need to stop for fuel eventually. It's important that you plan your stop to give you the best performance advantage, a decision that can be aided by free apps such as RaceLab, the best of which you read more about here.
Alongside your fuel level, you'll also have to worry about your tyres, but these can last the full race distance. However, depending on the track type, track temperature, driving style and car setup, you may find yourself with heavily worn tyres by the checkered flag.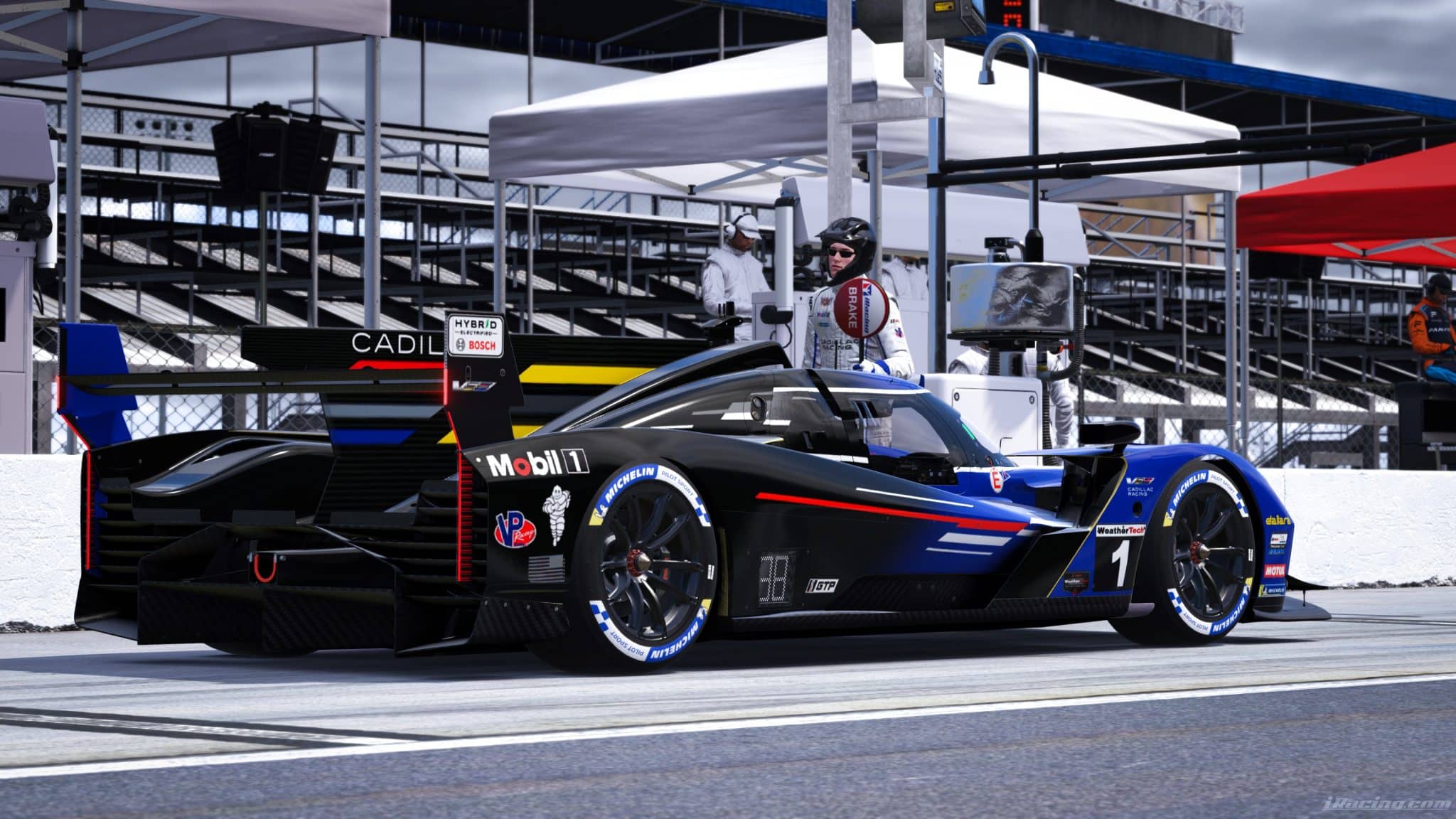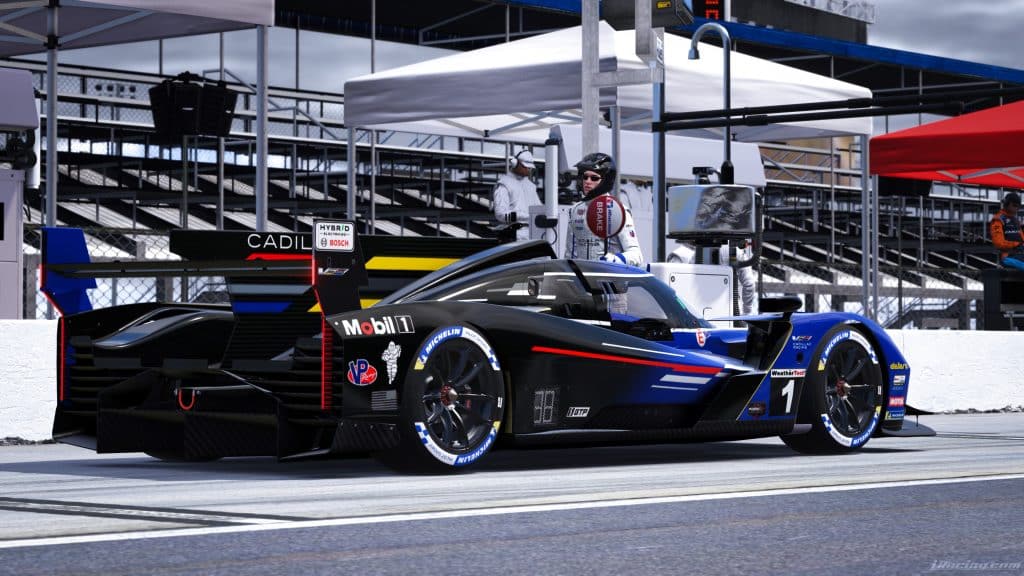 Many drivers do stop for tyres, with some choosing only to change the most worn tyres to save some time in the pits. However, changing only two tyres may cause handling imbalances, and you'll need to test this thoroughly before considering it as an option.
All in all, you're going to lose a lot of extra time by changing tyres in the IMSA iRacing Series, so it's something you're going to want to avoid doing in most circumstances.
Traffic Management
It's important to note that traffic management is vital in achieving good results in IMSA, and knowing where and when to pass slower cars can make a huge difference in lap times and your overall race time.
As mentioned before, you need to focus on racing the cars in your own class, and it's best to steer clear of cars in other classes.
Good practice in the race – if you're in a slower class car – is to maintain your racing line when a faster class car is attempting to lap you. This is a predictable and consistent way for other drivers to know your intentions, meaning they can use the performance of their car to pass you without interfering with your race or getting tangled up in an unnecessary incident.
Pre-race procedures
It is of utmost importance that you enter practice sessions that have many drivers on track before heading into a full race. This will allow you to learn how to pass slow-class cars while keeping up your lap times and where the best places are on track to make safe, clean passes.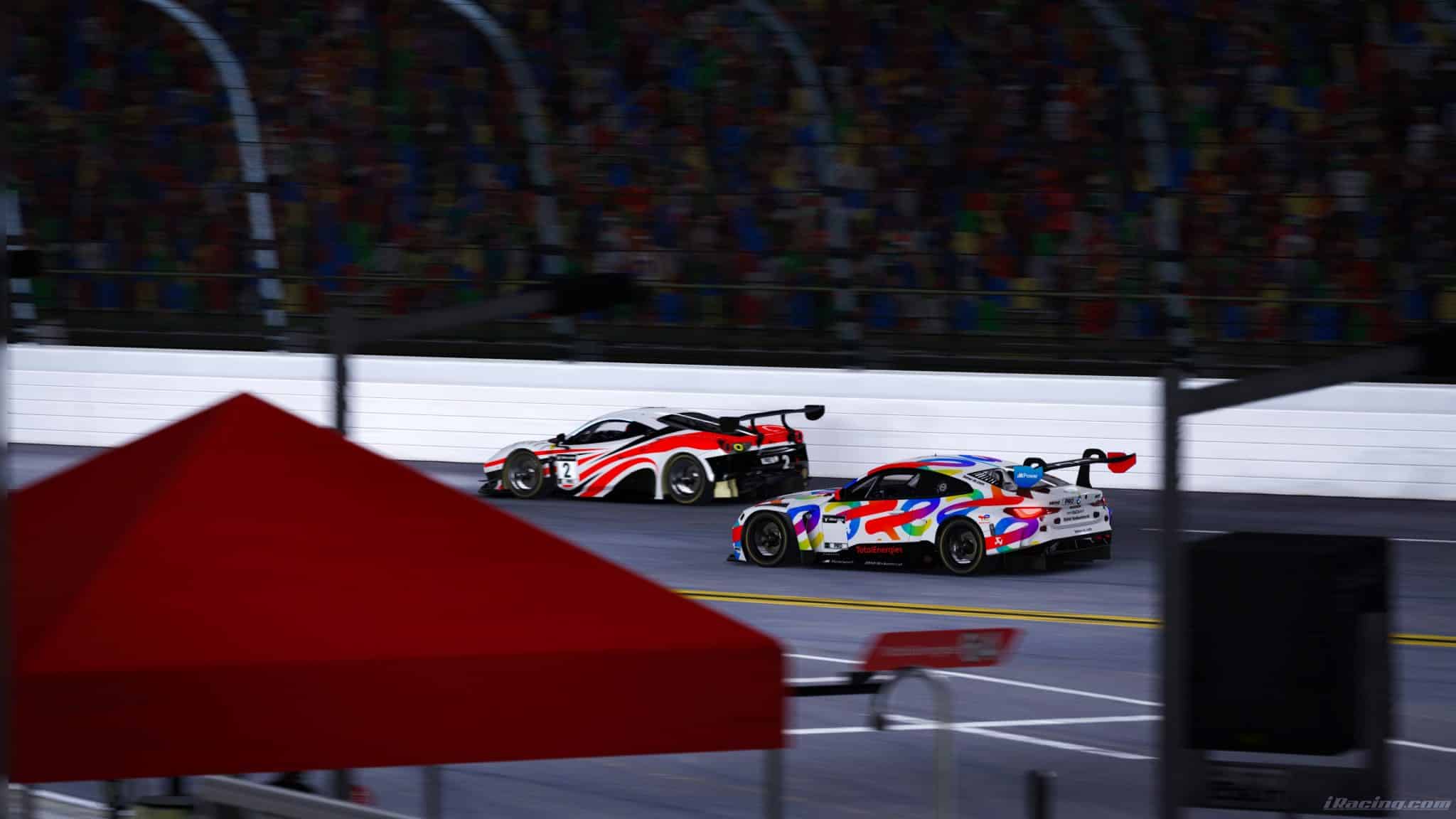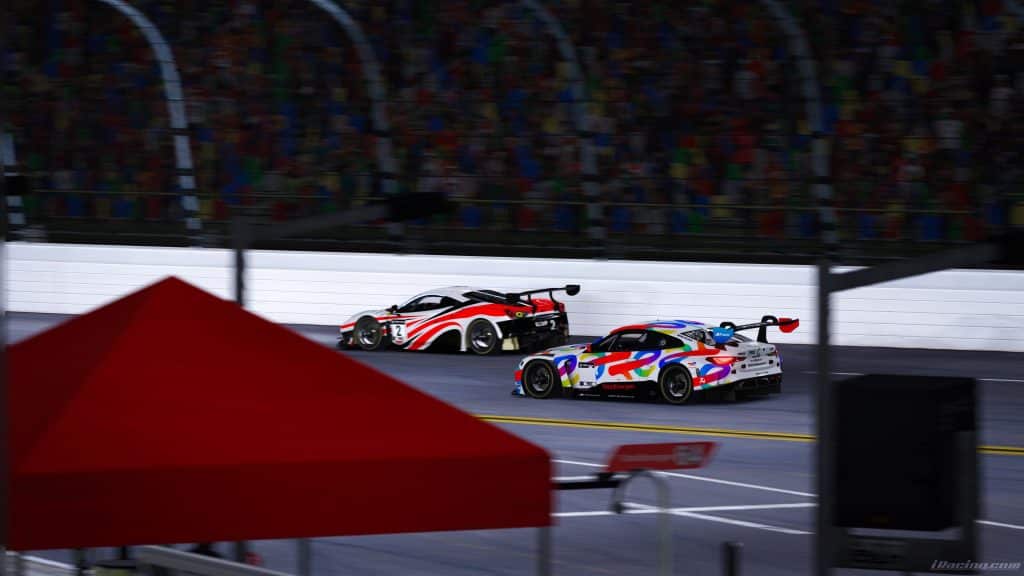 You'll also learn how to predict passes based on your closing speed. For example, if you see that a car is some distance in front using your Black Box, which is a key feature of iRacing's heads-up display, you'll learn more or less where you'll catch up with this car and where the best overtaking spot will be. This is, of course, not easy in the beginning, but it will become second nature with practice.
Car setups
iRacing provides decent setups for IMSA classes that should be fine when you're new to the series. However, it's best to either learn how to adjust the setups to improve your performance or make use of professionally developed setups, such as those from Coach Dave Academy. We provide qualifying and race setups that will take your racing to the next level by giving you the perfect blend of speed and consistency over a race stint.
Testing your setups in a practice session is vital in understanding whether you'll need to pit for a full set of tyres, two tyres or maybe even no tyres. Our car setups are developed to give you the best performance across an entire race distance, but there are so many factors that can increase or decrease wear that practice can make the biggest difference in understanding what to expect in the race.
Important tools
These tools are important for both practice and the race, but it's recommended that you get used to them in practice first:
Crew Chief: A free app that provides a much better virtual crew chief and spotter than the one built into iRacing.
Track Overlay: A free track map overlay showing the positions of all cars on track in real-time.
These tools will help you pass cars safely with the help of a virtual spotter from Crew Chief and should improve your ability to predict when and where to pass cars using the Track Overlay.
Voice chat
iRacing has a built-in voice chat feature that can be switched on or off depending on your preference. However, it's recommended that you use it to help with informing other drivers of your intention to enter the pits or where they must pass you eg. "pass left" or "pass right". You can map controls onto your steering wheel to utilise the built-in text chat function but using the voice chat function is far more effective.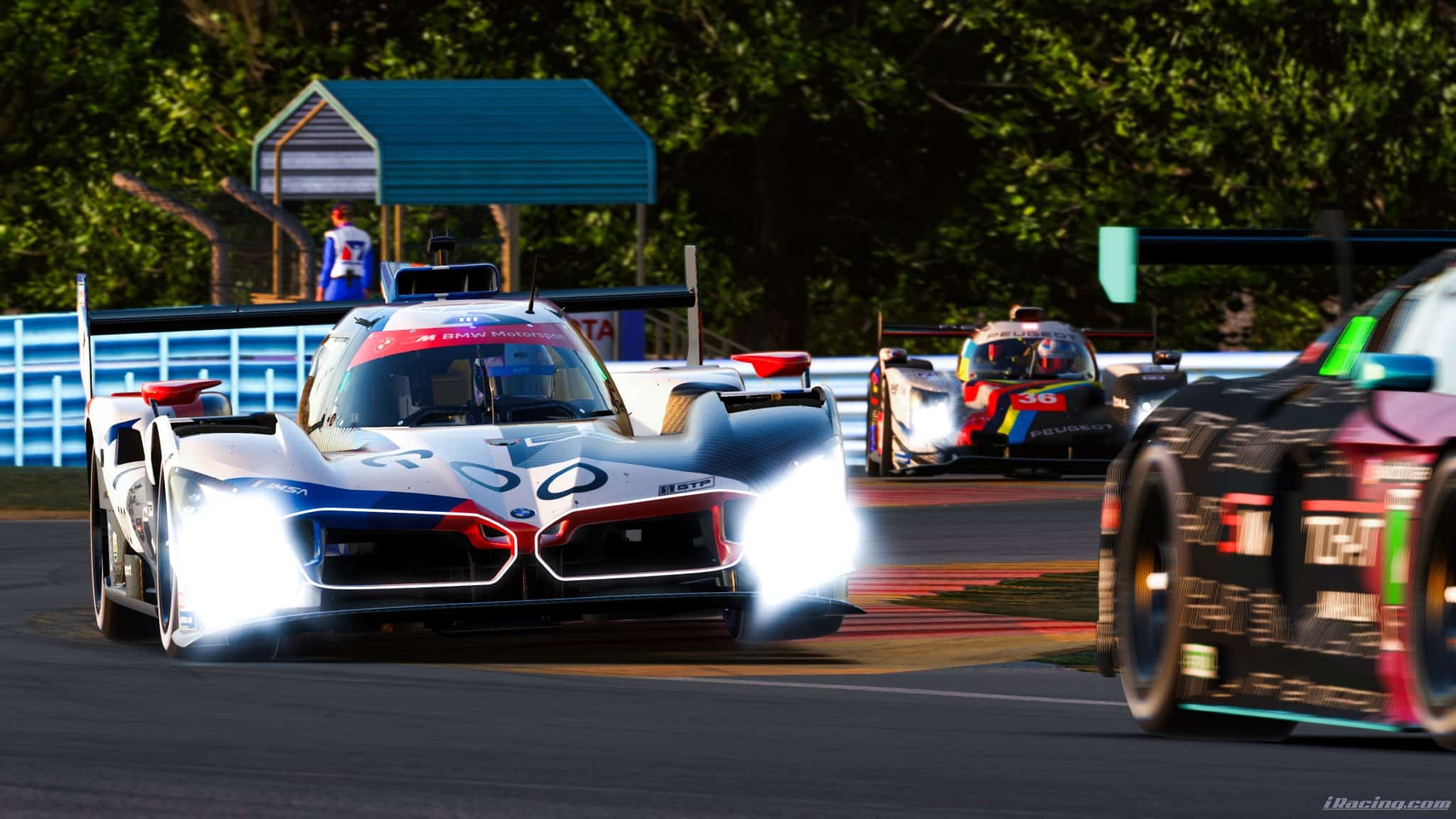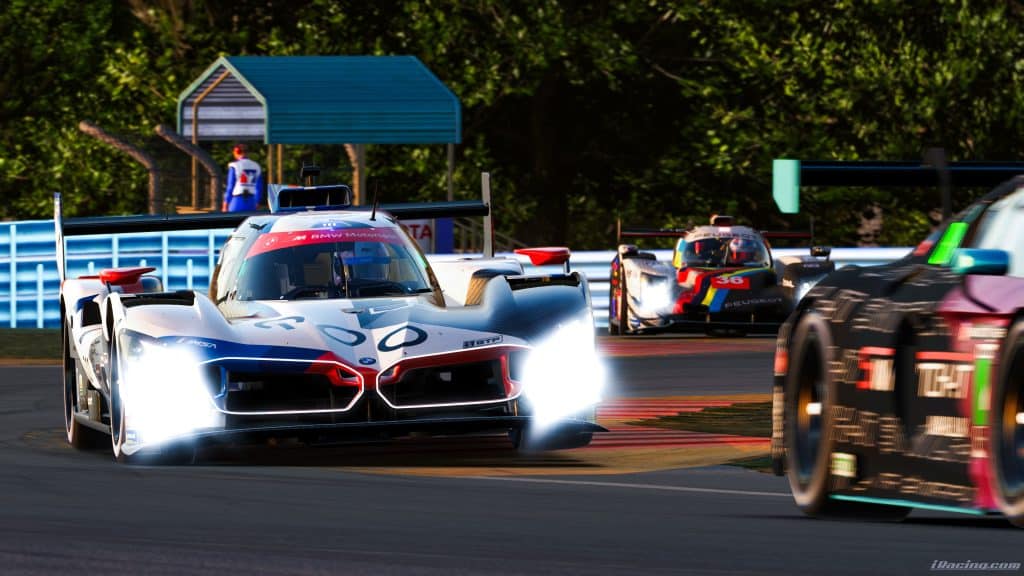 You will need a microphone to use the voice chat feature, and it's important that you practice using your mic to make sure it's working properly as well as to ensure that other drivers understand your intentions. It's also good etiquette to show your appreciation when a driver lets you pass them in a tricky area of track with a simple "thanks". Endurance racing, at its core, is many classes of cars sharing the track at the same time, and everything can quickly fall apart if you're selfish and forget that cooperation between drivers can make or break your race.
Qualifying
Qualifying is important and must be practised to understand how the car behaves in its low-fuel configuration. Official qualifying in the IMSA Series comprises two flying laps, with the fastest lap being your qualifying time.
However, if you get an off-track during a lap, then that lap will be invalidated. This means that you can quickly end up in a situation where both your laps may be deleted. It's, therefore, critical that you learn how to drive fast laps without any errors to maximise your chances of getting a good starting position.
What's so special?
The iRacing IMSA SportsCar Series is the most popular multi-class series on iRacing and features full grids and multiple splits over most of its time slots. The racing is very competitive, with traffic management quite often determining the winner. However, learning how to manage traffic and not getting into unnecessary incidents may be the difference between winning and losing.